Logistics is so much more than just moving goods from A to B. It may not be the core of every company, but it is definitely the blood – a steady flow of goods and services that makes the company agile and keeps it alive. And just as your cardiovascular system has to be healthy and stay fit, you can keep your product management in top shape with Consiness and in-depth consulting, enabling the many challenges of a global economy to be met.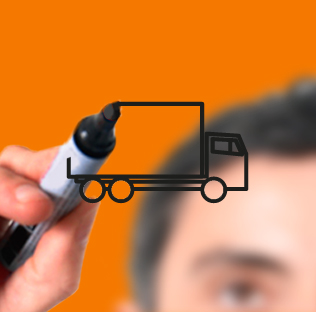 The objective of logistics is to closely align the entire value chain to the market demands and thus to the customer's needs. Materials, spare parts and consumables have to be managed and administered with the utmost care – to ensure that they are in the right place at exactly the right time. This applies within a company but even more so when dealing with customers.
Logistics is not only essential to your operations, it is also a field full of savings and development potential. Consiness exposes hidden potential and helps to create a lean, clear and cost-efficient material flow, from procurement to production and ultimately to distribution to the customer.
For Consiness, consulting means not only technical analysis, it also includes designing new and optimizing existing business processes and applications. Consiness helps you to analyze your logistics processes and then creates individual solutions to meet your needs and goals. In addition to optimizing existing SAP systems, Consiness also improves other external systems and existing interfaces, and it optimizes the actual logistics processes.
The material flow, information flow, document flow, organizational structure and HR development are examined carefully. Applying its vast experience with smaller as well as major projects, Consiness always finds the ideal solution for your company.
The modules provided by SAP help you to update your logistics to the most modern state – and to keep it there. For example, the module Sales & Distribution (SAP SD) provides support for your sales department. Whether you need help with pricing, later in the process with invoicing or customer service, or in handling payments: SD provides tools and data that give you greater insight into your logistics structures and that make your everyday work easier.
With production cycles getting faster and faster, and customer orders being processed more quickly by the day, sophisticated Material Management (SAP MM) is absolutely essential. Inventory management, purchasing of materials and order processing are handled simply and clearly. SAP MM supports purchasing in calling for tenders as well as in managing and comparing bids. It also includes an order quantity forecast and a precise overview: Which customer ordered which quantities of which product – and when will it be delivered? With Logistics Execution (SAP LE), you gain a clear overview of stock management, shipping and transport. And finally, with SAP (SAP GTS) Consiness provides services covering the range of Global Trade Service. For many companies, the import and export of goods is an essential element of their day-to-day business processes. SAP GTS pools services and tools for handling international trade. It standardizes and centralizes all of the import and export processes, it serves as a means of communication with authorities and it aids in the preparation of documents. Consiness analyzes the need for specific services, integrates the services in existing systems, and trains the specialist staff.
Consiness determines which components of which tools are required to meet your needs – and which could become relevant very soon. Analysis of your logistics structures shows how to adapt existing modules to suit your objectives or how to update an existing system with new applications. And then your technical department has to learn about the new possibilities to be able to use them to maximum efficiency.
Consiness's ultimate goal is to make your logistics more efficient, more flexible and especially less expensive, giving you a competitive edge while still allowing you to focus on sensible business action. Consiness's competent consultants apply their methods and tools as well as their process skills in regard to logistics to better position your company. Let us help you to make your logistics what it truly is: the central hub to your corporate success. The blood that keeps your company alive.