AIS.O Asset Inventory with SAP ERP connection
The Asset Inventory System AIS.O captures data using mobile barcode scanners both on- and offline, with data exchange being carried out through the SAP standard interface.
With AIS.O, you can support your asset inventory in SAP ERP. The system reads selected asset data from SAP and manages it. In AIS.O, you can determine which scanner can process which asset data. The barcode scanners (Windows or Android, handhelds or mobile phones) work on- or offline and communicate with the monitor program over WLAN once a connection is established. This means that the inventory can also be taken in areas without radio coverage.
The modular design of the system allows for implementation in secure network segments and encapsulation through proxy servers, ensuring that the SAP system remains protected even if the barcode scanners are compromised.
The menu navigation on the mobile capture devices is simple, and operators can, for example, scan all assets found in a room and then display missing assets. If necessary, custom menus or capture masks can be set up.
AIS.O can be used on your SAP system without additional development objects or modifications. AIS.O communicates with SAP ERP via standard interfaces (via RFC and BAPI calls). So you can start using AIS.O immediately.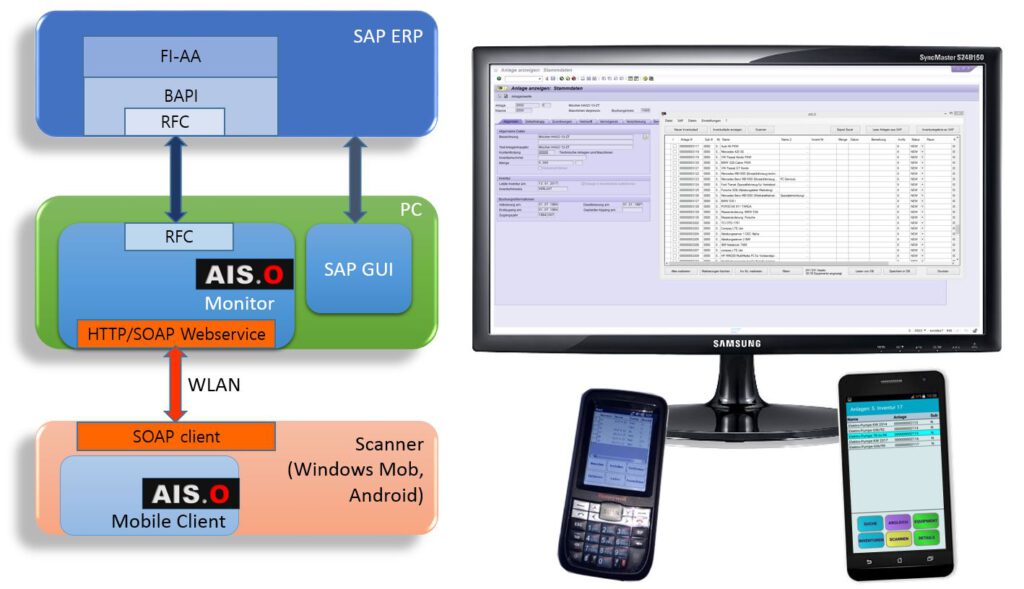 We would be happy to set up a trial version upon request.
Updates and download of a trial version (Windows-PC and Android client): AIS.O Download Area
Please request the free activation code by email to produkte@consiness.de.